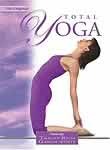 I am a Yoga SNOB!!!
So I like Yoga taught, at a yoga studio, by a certified yoga instructor!
But, I found a Yoga Video that I love!
Taught by real Yogi's from the Living Instutute.
You will love this video! I love this video
You will Find this Video online at sites like amazon.
Search for "Total Yoga".
This video is great if you are a beginner and have NEVER tried yoga and yet it is challenging enough for people that do yoga daily!
ENJOY!